Happy Hump Day! (Does anyone else get a little weirded out by that phrase like me?) For some reason, this week has been flying by, which is odd since last week was a shortened week and took forever.
So here's the deal. Usually on Wednesday mornings, I tell you about all my meals I ate the day before, and you "ooh and aah" over everything I ate. I'm about to turn the tables on you though. We're going to be playing a different "What I Ate Wednesday" game today. Instead of me telling you what I ate, you are going to have to use your brains and draw conclusions about what I ate based off of my pictures (am I a teacher or what?).
Are you ready?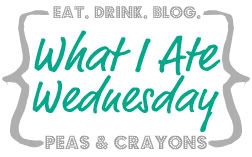 Breakfast — 5:45 AM
Lunch — 11:15 AM
A lot of you have been asking how in the world I make it from breakfast until lunch without having a morning snack. To be honest with you, I will sometimes have a morning snack. However, most mornings are so insane that I don't even think to use the bathroom let alone put something else in my stomach. Fifth grade is pretty intense these days.
Dinner — 6:00 PM
with a side of…
… and maybe some dark chocolate
Snack — 8:30 PM
Notice the chip in my favorite coffee mug? ::tear::
Pick a meal — what did I eat?