Who else is finding this week absolutely exhausting? Usually after a mini-break like Thanksgiving, I am able to bounce back fairly quickly and get back to my routine after a day or so. However, every day this week I have been ready for bed around 4:30 in the afternoon. Aaand then I have really gone to bed around 8:30. #dontjudgeme
But that doesn't mean I didn't get a good day of eats in!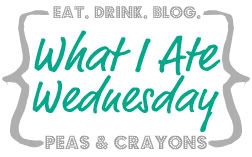 Breakfast — 5:45 AM
My newest obsession, which you can find here. Seriously, I'm upset because the cranberry sauce will be gone tomorrow.
Snack'ish — 11:15 AM
Does it count if my snack was eaten on the way to my classroom to eat lunch? I didn't have a spare moment this morning to eat anything, but I was really craving some of these. They're salty and macadamia nuts are to die for. Just so you know — I just showed the biggest restraint ever for not cracking a joke about salty nuts.
Lunch — 11:30 AM

A huge salad topped with about 2/3 of an avocado (go big or go home!), balsamic, and hummus. On the side, I had Greek yogurt mixed with 1 tbsp. chocolate protein powder. It was a very filling lunch!
On my way home, I ate raisins and almonds in the car (surprise!!) and was very happy to be stopped at a red light to capture the sunset in the sky.

It was really cloudy yesterday, but the pink from the sunset was peeking through. It only stayed that way for about 2 minutes, so I felt really lucky to be able to see it. It was beautiful!
Dinner — 6:15 PM
Okay, you are warned — most disgusting looking dinner ever.

A tofu/veggie scramble topped with nutritional yeast along with some sweet potato hash browns. Looks gross, tastes awesome.
Snack — 8:00 PM
Granola. Almond milk. Apple, Peanut butter spoon.
Bed.
And that's how it went yesterday. We're halfway there! Happy Wednesday!
Question: Have you had a hard time getting back into your routine this week?