No, I didn't spend my entire day at Whole Foods yesterday — while that would have been quite nice. And I won't lie to you — if you're reading this before 7:00 in the morning, I'm probably still sleeping (fingers crossed). The best part about winter break is breaking out of my normal wake up time and beginning to get up a little later. Although, I may be setting myself up for disappointment if I wake up early in the morning!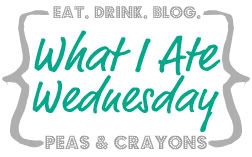 Is it seriously already Wednesday? This week is flying by — if only time would slow down for vacation time. Let's talk about yesterday, shall we?
Breakfast — 8:00 AM
8:00!!!! Can you believe that? I didn't even roll out of bed until 7:30 (!!!!! excitement folks). By the time I ran out to Starbuck's, got home, and made my breakfast, it was 8:00 before I even took my first bite. It felt wonderful to enjoy a leisurely breakfast.
Breakfast included chocolate protein oatmeal topped with cinnamon, leftover cranberry sauce, a piece of crumbled cinnamon roll (I had to), and peanut butter. You better believe it was scraped clean.
After breakfast, I went on a mad cleaning frenzy after I blogged for the first time in four days. The house was in such a disarray after running around for three days non-stop. It took me over an hour to clean the kitchen alone. Then about another hour to sort through Christmas presents and put them away where they were supposed to go. I finally had it around 11 and went to the gym to get my run on. I figured a break would do me some good.
I don't know what it was, but either my extra Christmastime fuel or my new magical wunder unders gave me the power to run 5.25 miles in around 45 minutes. My legs felt awesome and rested, and I just felt strong. I wish every run felt as good as it did. After my run, I went to the grocery store to pick up some produce for the week and was starving by the time I got home. Lunchtime it was!
Lunch — 1:15 PM
All I wanted was some fresh fruits and vegetables for lunch today — so, that was what was on the menu!

My salad included a mix that my mom let me take home from my aunt's leftover night last night — romaine, tomatoes, carrots, and red onion. I added about 1/2 of an avocado, hummus, and balsamic to the mix. I honestly did not know vegetables could taste as good as they did today.
With the salad, I also made a smoothie — got to get those fruits in! We have so many oranges in our fridge right now, so I made a banana orange smoothie with a scoop of Sun Warrior and some chia seeds in it as well.

It. Was. So. Good.
My afternoon consisted of me continuing and finishing my cleaning escapade, as well as rescuing my mischievous dog from our creek out back. Apparently he wanted to go exploring when the wind pushed the gate open. And unfortunately I got caught against a bush that is full of thistles — and my wunder unders were FULL of them. At least 100 of these tiny little thistles had to be hand picked off of my pants, which took over half an hour. Charlie was banished to his cage for the afternoon for being a naughty dog.
Dinner — 5:30 PM
A fairly early dinner for my late lunch, but I was quite hungry already as I didn't have an afternoon snack! My mom had an appointment in my town at 7:00 (she's a realtor), so we met at the Vegan Cafe for some dinner. She had bought a Groupon a while ago, so we put it to good use!
We started off with the stuffed mushrooms as our appetizer — these are so delicious. They are marinated Portobellos and the stuffing is a nut and pesto filling. Don't be deceived by the picture — the mushroom was quite large!
  
For my dinner, I ordered the Taco Salad. The taco salad is a bed of mixed organic greens, topped with guacamole and "taco meat". Their taco meat is a combination of almonds, carrots, sundried tomatoes, and spicy seasoning. It is all drizzled with their version of "sour cream", which is cashew based. On the side, they usually serve their corn chips, but since I can't have the corn chips, Laurie substituted the Italian Crisps for me.

This salad never gets old — and it is SO filling. Since the majority of their products are flax and nut based, I always leave with a full stomach. My mom and I also ordered dessert but I only had a small portion of the brownie and brought the rest home to snack on later tonight.
I also signed up for a shift this week to volunteer! I haven't been in to volunteer in such a long time because of school, so I can't wait to get back in there on Thursday.
My brownie will be calling my name later on tonight to end out the day of eats, and I have to say it feels so good to eat whole fresh foods once again.
Question: What is the best thing you have eaten in the last day or so?