This has nothing to do with anything in this post and I probably have mentioned it before, but I think one of my all time life dreams is to be on Wheel of Fortune. As I was watching it last night (Couples Edition!), I thought about how the Husband and I could have rocked that special and went home with a million dollars and a trip to Jamaica. Just sayin'.
Yesterday came and left in what felt like an instant! Whenever there are "special" days at school, the time just flies.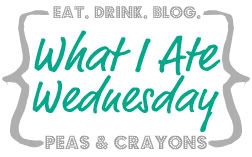 I started my day out bright and early at 4:30, a little upset that it only snowed like 1/8 of an inch. I headed out to the gym and completed Day 30 (minus the cardio) of LiveFit which made my arms want to fall off just a little bit. I was okay with it until this workout called for me to do 75 pushups. I'm sorry — what? In typical fashion, about a third of them were done on my knees — it was hard!!
When I got home, I made breakfast after getting ready for school — and I am now aware that I need to switch up breakfast because you've seen the same thing for at least a month.
Breakfast 6:00 AM
Same picture, same bowl as last week.
1/3 cup oats
1 cup water
1/3 cup almond milk
1 egg white
1/2 banana, whisked in
1 tbsp. chocolate protein powder
1/2 cup blueberries (they're in there!)
cinnamon
almond butter
Although, whoever told me I needed to store my almond butter upside down in my fridge is a genius — it really thickened it up! I am almost an almond butter convert — almost.
Snack — 9:15 AM
I had a ridiculous amount of meetings yesterday — one before school, one in the morning, and one in the afternoon right after lunch. I had a sub for part of the day while I was out. In between my first two meetings of the day (and during my plan time), I ate a fried egg with some nutritional yeast and ketchup. It did the trick in holding me over until lunch!
Lunch 11:30 AM

Lunch was deeelish! I made some of my mom's veggie chili on Sunday and have been bringing it for lunch the past few days. On the side I ate a piece of my homemade gluten free sandwich bread and topped it with mustard and avocado once I toasted it at lunch time.
I also grabbed a bag of carrots from the fridge last minute only to find that there were like only two carrots in the bag — epic fail. Instead of eating carrots, after lunch I dug into some of the dark chocolate my students got me. It was glorious.
Side note: Someone asked me last week if I ever eat chocolate and/or sweets. The answer to that is — YES! Every day! I typically forget to take pictures of it, but every day after dinner I have a few pieces of dark chocolate. I refuse to not give into that craving.
This afternoon flew by — I had so much fun watching all of my kids pass out their valentines and indulge in a few sweet treats.
Snack 3:45 PM
Typical.
Dinner 6:00 PM
Okay, so really this was my dinner on Monday night — BUT! My dinner last night was boring. If it makes any difference, the Husband ate these leftovers yesterday. We can pretend this is what I ate instead.
After dinner I had some more dark chocolate (Lindt with sea salt is where it's at — this girl got me hooked on it) and parked my booty on the couch for the rest of the night while I watched the Husband paint our bay window.
Another Side Note: The Husband came home and surprised me with some flowers this afternoon before dinner! I wasn't expecting anything since we celebrated over the weekend, but it was the highlight of my day.
Snack 8:00 PM
Before I headed to lay in bed to read, I ate my usual snack of a pumpkin protein muffin, some Greek yogurt, and half an apple — all topped off with some almond butter of course!
Question: Did you indulge in any sweet treats for the holiday yesterday?