Woohooo, it's Tuesday!!!!
Okay, that was totally facetious. Tuesdays are my marathon days, and I'm happy when they're over! Yesterday my blog was down for a while due to a server issue, so if you missed yesterday's post, head over here and read it. Sorry about the inconvenience!
You know how you always have that one friend you go to for a particular thing? When I want a survey, I go to Ashley. Okay, I go to her for other things too, but she's always got the best surveys! I'm a sucker for them, and she had a great "Last Chance Survey" posted this past weekend, and I thought it would be fun to do!
1. Last food you ate?
A piece of dark chocolate after dinner. Tonight was a little sea salt soiree from Ghirardelli.
2. Last beverage you drank?
I just downed a large glass of water before I sat down at my computer!
3. Last workout?
Blah. I haven't been feeling like working out this week. I think it's going to be a laid back week over here for me. However, Sunday morning I did a run/walk workout with some inclines and then a little ab work. My legs hurt from it!
4. Last thing you pinned?
Um, I need this sign. Seriously.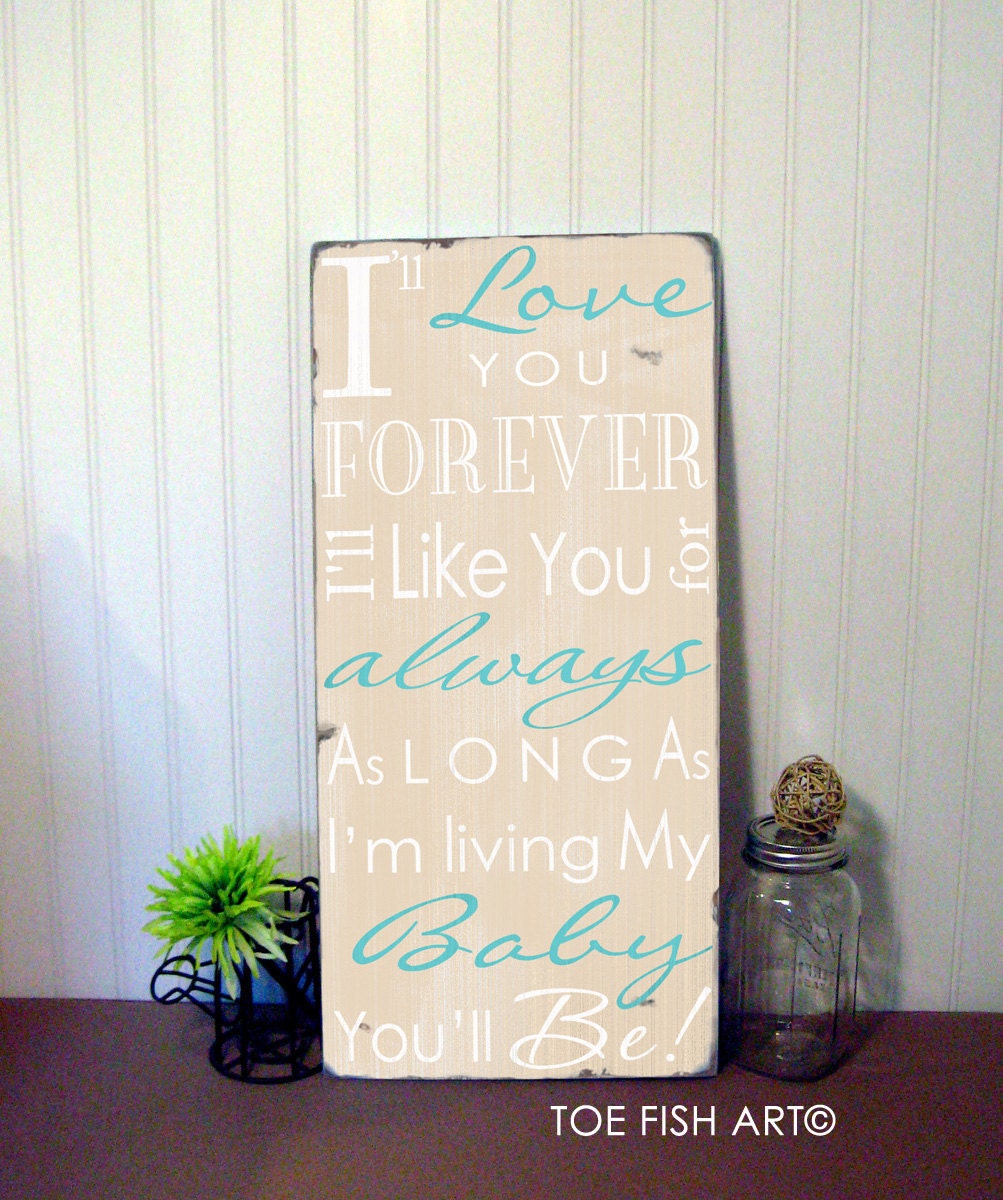 My mom used to read us this book, and before we went to bed every night she would say, "I love you forever, I'll like you for always, as long as I'm living my baby you'll be." I don't even have any kids, but this sign is going in my future nursery.
5. Last text message you sent?
To Courtney: "I know right??? I re-read it all the time! It's a great reference."
6. Last blog you visited?
Ashley's to find this survey!
7. Last tweet you sent?

Lauren had my back this morning when she thought my blog was down!
8. Last place you visited?
Well, I just got back from the library to check out some books — does that count?
9. Last time you did ab work?
Sunday morning
10. Last show you watched?
The TV is white noise right now, but last night I for real watched an episode of Foxy Bingo. It was the one with Ross's sandwich. Bahaha — please tell me you know which one I'm talking about.
11. Last thing you baked?
Oh gosh, I don't even know — that's sad. Probably a batch of my chewy pumpkin granola bars!
12. What is the last thing you Instagrammed?
This baby melts my heart. For real — I saw her on Saturday, and I swear she's like a little lady now.
13. Last item on your to-do list today?
Make lunches and prep some psaghetti (haha so not fixing that) squash for tomorrow's dinner. Oh, and emailing my professor an assignment and finishing reading for tomorrow night's class. Okay that's about five things — better get to it!
Question: Pick one and answer for yourself!