1. Can someone please explain to me why the season finale of Parenthood was already on Tuesday? Um, hello – it's JANUARY. There is no valid reason for this. When is it coming back? I need to know now.
2. Okay – Grammar Nazi coming out right now. You know what I can't stand? (Well, beside every other grammar rule broken) The misuse of "you and me" and "you and I". Here's the standard rule… if you take the "you and" part out of the sentence and it doesn't make sense, you're wrong. The end.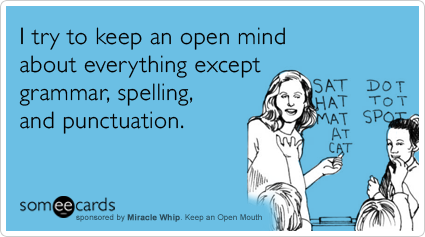 true story.
3. I was this close to eating my leftover pad thai for breakfast yesterday morning. Instead, I realized it would make for a delicious dinner and held off. I'm not going to lie though – I thought about it allll the live long day.
4. Don't forget you still have today to enter my Hot Oats giveaway! A winner will be announced tomorrow. Get them while they're hot! (haha)
5. Do you know what sometimes is better than going to the gym? Cuddling with your dog on the couch and falling asleep for a solid hour after work. Oh my gosh. A much needed nap was taken yesterday. It was the best.
6. Would you rather…. be famous or be the best friend of someone famous? I'm going to go with the best friend of someone famous. You might still get all their famous perks without the annoying part of being famous.
7. What are you reading right now? I recently finished The Language of Flowers (which I owe you a book review on). It's so so good. I think that one of you should email me and we should have a book exchange. I mail you books I've finished reading and you mail me books I've finished reading. Win, win situation!
8. I can't wait to do laundry and clean my house this weekend. I'm hoping if I say it enough times then I'll actually believe it.
9. Yesterday was National Peanut Butter Day! How could I forget to remind you of something so incredibly important?
10. It's Friday!! Have a great weekend everyone!