Disclosure: This post may contain affiliate links. If you click them and make a purchase, we may earn a commission. It helps up keep our content free.
Meal delivery diets have exploded in popularity throughout the last few years, and one of the top delivery diets is Nutrisystem.
Although it's easily the most popular meal diet in the world, it's not the perfect fit for everyone. The good news is there are other options, but there are three that really standout.
The top three alternatives to Nutrisystem can be found below, as well as info about each one.
Our 3 Favorite Nutrisystem Competitors
South Beach Diet
Noom
Medifast
1. South Beach Diet: Closest Diet to Nutrisystem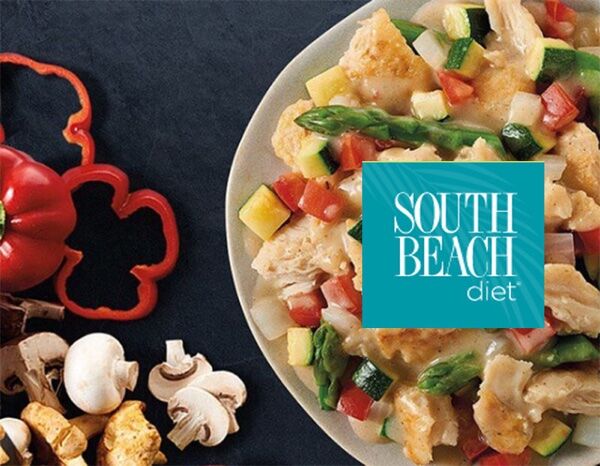 South Beach Diet is without a doubt one of the best meal delivery diets around. It's also the closest to Nutrisystem. Here's what you should know about it:
How Does it Work?
The South Beach diet consists of three phases, with the first phase being two weeks long. During this phase, you'll be focused on getting rid of sugar cravings and removing refined starches from your diet, which means eliminating bread, rice and pasta from your diet.
Phase two is focused on setting you up for weight-loss in the long-term, while phase three is the maintenance phase.
Throughout the years the South Beach has evolved. Today, it's recommended that you exercise on a regular basis. If you combine the South Beach diet with exercise, then you'll increase your chances of losing weight and keeping it off for the long-term.
Menu Differences vs Nutrisystem
As for menu options, Nutrisystem offers a breakfast, lunch and dinner menu. A typical South Beach menu consists of foods such as omelets, veggie salads and smoked salmon to name a few.
Generally speaking, South Beach's menu consists of foods that are high in fat,m protein and low in carbs, while Nutrisystem's menu consists of foods low in carbs and high in protein.
As for selection, the South Beach offers excellent options. The menu is a bit more diverse than Nutrisystem's menu, and in regards to the variety of foods you can eat.
If you're after a diet with plenty of food options, then you'll be pleased with South Beach.
Price Comparison: Is Nutrisystem or South Beach Diet Cheaper?
South Beach diet can be the cheaper option, especially if you decide to take your own approach to it. If you do that, you'll be planning your own meals, preparing them and shopping for them.
However, South Beach does offer three meal delivery services plans, with costing either $10.36 per day, $11.79 per day or $18.86 per day.
Each plan offers something a bit different than one another.
As for Nutrisystem, you can expect to pay anywhere from $275 and $600 per month. Generally speaking, the program does cost slightly less for women than it does for men.
As you can see, the price for Nutrisystem and South Beach are pretty similar, but South Beach does let you take your own approach, which works out to be an inexpensive option.
Where to Buy
You can purchase the South Beach meal delivery plans directly from the company's website. All you do is choose the plan you want and the payment method you prefer. After you do that, South Beach will send you your meals.
2. Noom: Diet App vs. Meal Delivery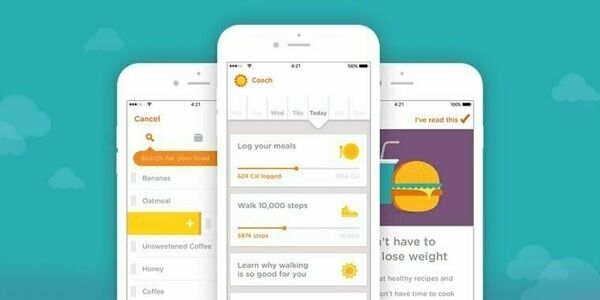 Here's what you should know about Noom:
How Does Noom Work?
The way Noom (see our Noom of review) works is you signup to use its app, as Noom is a weight-loss app that you subscribe to.
The app provides its users with a personalized plan, which includes telling them what to eat and informing them what foods contain more calories and which goods are the least dense in nutrients.
Also, when you purchase a subscription, you'll be given questions, which will then lead to you receiving your own personalized weight loss plan.
Furthermore, users are paired with a coach. The coach provides advice to help you reach your weight loss goals. This is one of the features that makes Noom standout of the crowd.
App vs Meal Delivery
Noom is great because the app explains what foods you should eat, based on the info you provided about yourself. Plus, the coach you have access to will keep you motivated and will give you advice on how to reach your goals.
This is something many meal delivery plans don't offer.
However, meal delivery plans includes foods with their weight loss plans. This means you don't have to shop for your own foods or spend a lot of time preparing and cooking it.
With Noom, you will be responsible for the shopping, so there's always a small chance you might not get the foods you're supposed to get.
Price Comparison
At the time of this writing, users can signup with Noom for $59 per month or $199 for the year. As you can see, it is considerably cheaper than South Beach diet and Nutrisystem, but you do have to buy your own food.
This is where it can become expensive with Noom.
Meal delivery companies includes the foods and the meals are sorted out. You simply unpack the meals and prepare them. Sure, at first glance Noom may seem far cheaper than alternatives, but if you have to spend a lot of money in food, then it may work out to be cheaper to go with a meal delivery company.
How to Join Noom
Joining Noom is easy because you just go to their official website and pay for a subscription. As previously mentioned, you'll have to answer a few questions before you receive your personalized weight loss plan.
After everything is all set, you're good to go and can start using the app.
Learn more and see current Noom prices.
3. Medifast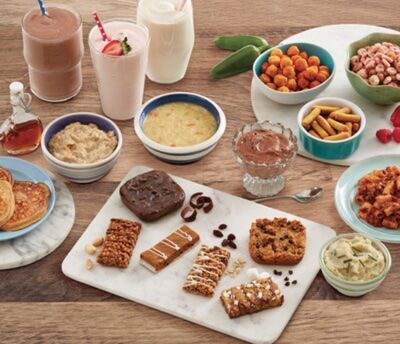 Another popular alternative is Medifast. Here's how it works, menu differences, price and how to join:
How Does Medifast Work?
Medifast offers meals that are dense with nutrients and contain an array of minerals and vitamins. In turn, you lose weight, but you don't miss out on nutrition. You'll feel full throughout the day, and after a few days have passed, you'll start burning fat.
This will help you lose weight, but at the same time your muscle tissue will be preserved.
Menu Differences to Nutrisystem
There's only a few slight differences in regards to the menu, as both offers similar plans. However, Nutrisystem offers specialized plans to vegetarians, diabetics and seniors.
However, Nutrisystem doesn't offer gluten-free meals, at least not at the time of this writing.
As for taste, many reviews have rated Medifast has offering foods that taste better than what Nutrisystem offers.
Price Comparison to Nutrisystem
Medifast has a 30 day program that costs $329, and they have another program that costs $466 and then there is a third program that costs around $566.
As the plans get more expensive, more stuff is included. As you can see, the costs are not that far off from one another when you compare Medifast and Nutrisystem.
Where to Join
Medifast is purchased via their official website. You can choose which plan you want to go with, and then you'll receive your meals. However, if you don't want to order a plan, you can choose to purchase products such as Medifast snacks, meals and kits and more.
Learn more and check current Medifast prices.
Bottom Line: How to Pick the Right Diet for You
As you can see, Medifast and South Beach are great alternatives to Nutrisystem, and they both have a great selection of plans to choose from.
Meanwhile, you can't go wrong with Noom, which is a unique app that provides you with a coach to help you achieve your weight loss goals.
All three options are unique in their own way and they offer you a great deal of info and tools to help you lose weight for the long-term. If you want a cheap option, then South Beach is great, but you really can't go wrong with any of the three.
Choosing the right diet is all about deciding on what your budget is, whether you prefer convenience over doing your own shopping and whether or not you will likely enjoy the foods included in the diet.
My Top Pick?
However, the top choice is South Beach diet because it has evolved over the years and now recommends exercising regularly.
Not only that, but you get a lot for your money when you signup with South Beach, but we also like the fact that you don't have to signup for a plan and can take your own approach with it.
Although, it's a good idea to signup for a meal plan with South Beach because then you'll be more likely to stick to the diet, which means achieving weigh loss results faster, as well as being able to maintain your results.
Resources