Disclosure: This post may contain affiliate links. If you click them and make a purchase, we may earn a commission. It helps up keep our content free.
In this South Beach Diet review, we will be taking a close look at the South Beach Diet. It is a very popular and well-known weight loss and meal-delivery program that features a diet that is low in sugar and carbs and high in protein.
South Beach Diet promises to take out all of the guesswork from dieting by delivering pre-portioned, prepared, healthy meals directly to your doorstep every month. Similar to Nutrisystem, the convenience of the diet makes it a keto-friendly top pick for busy people. (They offer a new keto-friendly plan now as well!)
So how does the highly popular South Beach Diet actually work? Let's take a close look at the health expert ratings and user reviews to learn more about this program to see if it actually works.
Here is our review of South Beach Diet:
What is the South Beach Diet?
South Beach Diet has been around for nearly two decades now, and during that time it has developed a reputation as one of the most effective programs on the planet.
Now, it's even available as an easy-to-follow and convenient meal delivery diet.
Cardiologist Arthur Agatston invented the South Beach Diet in 2003 [1]. Agatson originally developed his 3-phase program in order to improve his patients' insulin levels but noticed that on his plan they lost weight as well.
In contrast to other highly popular low-carb diets like the orginigal Atkins Diet (they now offer less restrictive versions), Zone, and keto, South Beach Diet isn't quite as restrictive when it comes to carbs. The diet instead is all about learning how to eat healthy fats and the "right" carbs. With keto you may eat 20 to 30 of net carbs per day, while South Beach Diet usually keeps you at somewhere around 50 net carbs per day.
While South Beach Diet bills itself as a carb-restrictive diet, they also have a focus on foods that are low in saturated fats and low on the glycemic index like vegetables, eggs, cheeses, and meats.
Exercise is also encouraged by the South Beach diet to help speed your metabolism up and also facilitates weight loss. They keep things pretty simple, though: 30 minutes of brisk walking is all it takes.
The South Diet Beach Diet was published originally in the form of a best-selling book and today is a comprehensive loss weight program that comes with a monthly meal delivery service.
Ready to get started? Learn more at the South Beach Diet website:
How South Beach Diet Works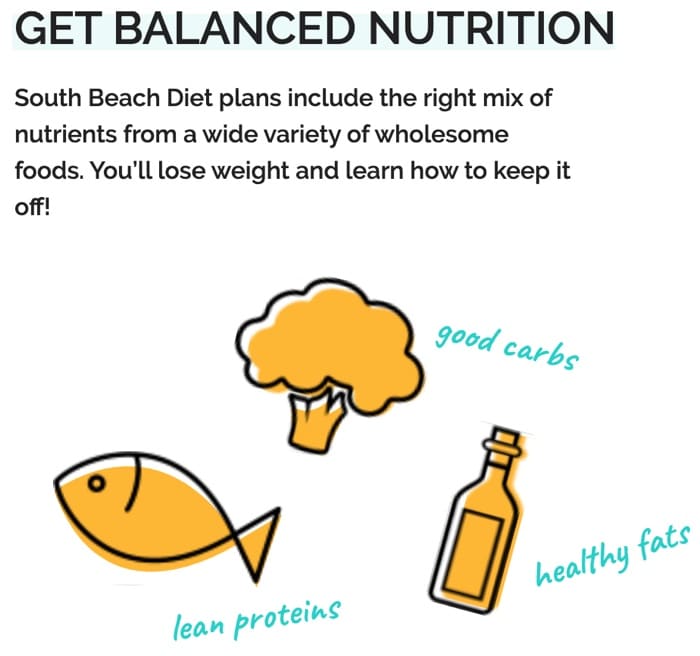 Meals and snacks based eating the right healthy fats and carbs to keep you feeling fuller longer.
A diet plan built around proper nutrition, that is designed to help you lose weight that is comprised of a wide range of healthy foods that are delivered directly to your doorstep every month.
Drink 64 ounces of water daily.
Learn how to make healthy eating choices so you can maintain a healthy weight for life.
Use the South Beach Diet app to stack on track, plan your meals, and help with your grocery shopping
Shoot for at least 30 minutes of moderate exercise per day
South Beach Diet Phases
South Beach Diet rolls out in three main phases:
Phase 1: 14-Day Body Reboot: This is the strictest phase of the diet, and is often the time where you'll see the most weight loss. During Phase 1, you'll be "rebooting" your body, to boost your weight loss efforts, and get things started on the right foot. It also helps curb your carvings for bad foods, helps boost your metabolism, and right now South Beach Diet says they can help people lose up to 7 pounds during the first week of Phase 1.
Phase 2: Steady Weight Loss: Slowly reintroduce some of the foods that were off limits during Phase 1, and settle in for steady weight loss. What does "steady" mean? Most people can expect to lose an average of 1 to 2 pounder per week during this phase.
Phase 3: You've Got This: You've reached your goal weight, and are ready to transition off their meal delivery program. You've learned what healthy eating looks and feels like, and you're ready to make the right eating and exercise choices, so you can maintain your weight loss.
This sounds great, but does it really work? Here's what the science, and real life testimonials say:
Does it Work?
On the surface, South Beach Diet appears to be a no brainer when it comes to a proven way to lose weight, but does it actually work?
Based on my own experience with the diet, the huge body of verified reviews we've examined, as well as clinical research, we'd say it definitely works, when followed correctly.
Let's take a look at the following, to give you a better idea about how well South Beach Diet works:
Verified Customer Testimonials
Expert Rankings
Clinical Research
Verified Customer Testimonials: Postive + Complaints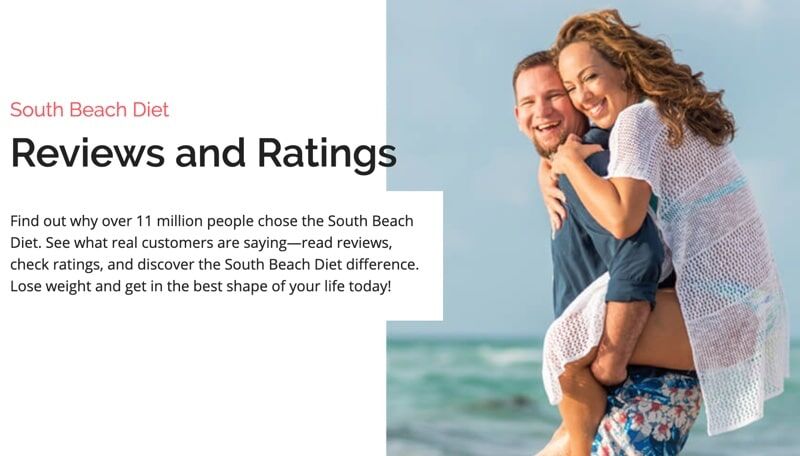 If you do any research on South Beach Diet, you're sure to find a lot of reviews out there, but which ones can you trust? We prefer to stick with those that are verified, meaning it was proven the person leaving the review actually purchased South Beach Diet's meal delivery service.
Positive
You can find plenty of customer reviews on South Beach's Diet website [2], but we'll share a few of the most helpful here:
Surprisingly Delicious. Easy process and the food is good! It's not home cooking but it is tasty and makes sticking to the diet much easier! I do recommend picking a variety of cuisines (not just the Chinese and Mexican inspired meals) because it does get a little boring. But overall, easiest plan to stick too!
Shockingly good! The food is well-spiced & tasty, the app is helpful & accessible, and it works!
I've been on many diets! This one works for me. South beach to me is the best. I got better results with them then any thing else. The food I like some and some I don't but then you don't buy what you don't like. There are many choices. I like the 5 days on their food and then 2 days of my own.
Complaints: Bad Reviews?
While most of the South Beach Diet testimonials we've read trend to the positive side of the spectrum. There are a few complaints out there. Here's a brief look at a few of the bad reviews we found:
It's was great ordering and the delivery was great. It's just not working for me. I believe that everyone needs to find the diet that works for them.
I was rather disappointed by the products. The food is okay for convenience but other than that, it was not worth it.
The Verdict?
While there are a few complaints out there, 221 out of the 349 reviews we read left at least 4 out of 5 star feedback. 140 of those rated South Beach Diet as 5-stars.
The bottom line is this: More than 11 million people have put South Beach Diet to the test, and most of the reports we've read seem mostly positive.
It's a great option for a lot of folks, you'll just have to decide if it's the right one for you.
Expert Rankings of South Beach Diet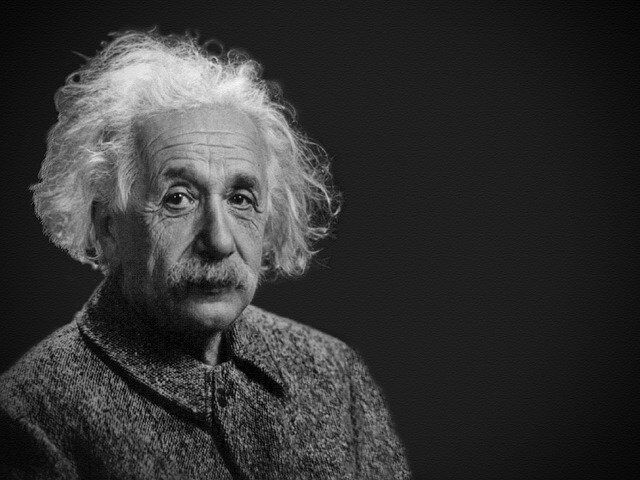 A panel of nutrition and health professionals were recently asked by U.S. News & World Report to provide ratings on the South Beach Diet on various criteria they've identified as being important qualities in a diet plan [3].
Their finding indicated that South Beach Diet scored high marks for "short-term weight loss," however on "long-term weight loss" it scored lower.
This seems to imply that of the diet experience an initial quick weight loss, but then after a few months might get tired of this program and its prepared meals and restrictions.
To investigate even further whether or not the South Beach Diet actually works, et's check out some clinical trials and independent studies.
Clinical Studies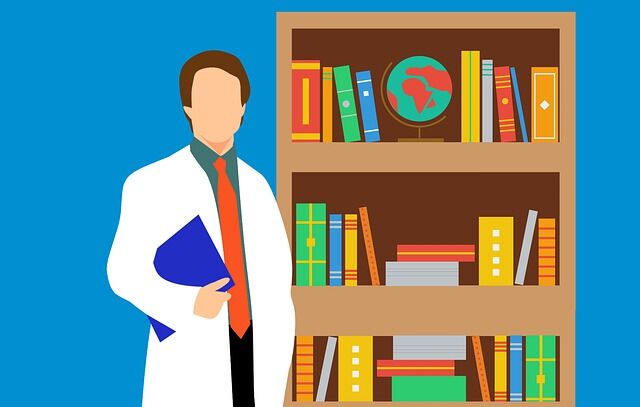 A 2014 weight loss study of several different popular diets, which included the South Beach Diet showed that although short-term weight loss was promoted by the diet, there were inconclusive long-term results [4].
The Archives of Internal Medicine published a 2004 study that compared the National Cholesterol Education Plan (federal government) with the South Beach Diet [5]. It found that over the course of 12 weeks, that on the NCEP plan dieters lost 7.5 pounds, while dieters on the South Beach Diet lost around 13.5 pounds.
South Beach Diet Pros & Cons
Pros
Fast & Steady Weight Loss: The diet is often praised the most for producing quick weight loss results. That is likely due to Phase 1, where carbs and calories are drastically reduced.
Convenient: It is time-consuming to plan, prepare, and portion meals. This is why this diet appears to be highly rated by people who don't like to cook and by busy people.
Easy to Follow: There are many people who try out meal-delivery diets such as the South Beach Diet after they have failed on DIY apps and diets. The structure, in this case, might help them regain control of their health and eating habits. Meal delivery diets such as Nutrisystem and South Beach can feel quite restrictive. However, may customers discover that the quick weight loss results and convenience outweigh the sacrifices they have to make. And if they take what they're learning to heart, then they have a real shot at maintaining their weight loss.
Keto-Friendly Options: South Beach Diet now offers a "keto-friendly" menu. It's not full on keto, but sort of a "friendlier" take on it. Either way, it's low in carbs, and they have a variety of menu options that meet their keto-friendly criteria.
Affordable: South Beach Diet lowered their prices recently, and their meal delivery program now starts at just $7.97 per day (normally starts at $9.56 per day), if you have access to their latest discounts. Good news, though. We do have access, and you can get this deal here.
Cons
The South Beach Diet does get a fair number of bad reviews. Let's check out what the most common complaints are from users.
Food (Taste and Quality): In bad reviews we examined, one of the most common complaints is about the food's portion sizes and taste. Some people complained the food was inedible or spicy, while others quit the program because they missed consuming "real" (home-cooked or restaurant) food. Remember, though, you do get weekly flex meals, which are meals you make at home or eat at a restaurant. Also, while South Beach Diet food won't be the best you've ever had, we think it tastes pretty decent, and perhaps more importantly, it gets the job done when it comes to weight loss.
Some Report it Didn't Work: For many people, the diet doesn't work. Some lose their motivation and do not make the adjustment to eating pre-portioned, pre-made, scheduled meals. Either way, South Beach Diet wasn't for them. If you do decide to join, just remember you're going to have to stick with it if you want to see results. Most who do see results.
Cancellation Policy: There were quite a few bad reviews that showed anger about attempting to quit the program. If you cancel the auto-delivery prior to the second-month delivery, they charge you a $125 cancellation fee. There is a work around for this, however. If you do decide to cancel early, they'll typically let you change your order to just shakes or snacks. This option is cheaper than a full order of food, and you at least get something instead of shelling out the $125. Just call customer service to make sure they'll offer you this option.
South Beach Diet Frozen Food & Sample Menu
The menu for the South Beach Diet features a variety of nutrient-dense foods that emphasizes healthy fats, fiber, lean protein, and good carbs. South Beach Diet teaches you the differences between bad and good fats and carbs, so you can see what healthy food really looks like. Stick with their principles, and you have a better shot at maintaining your weight loss.
Pro Tip: Although you will mainly eat prepared meals, you will still be required to supplement your food by purchasing groceries, including vegetables and fruits. The offer a grocery guide, so don't worry, you won't be on your own when it comes shopping.
Every week you are also allowed to have several flex meals, including one of your own breakfasts, lunches, and dinners. You can either eat those meals at a restaurant or cook them yourself. Either way, they offer guides for both options, to help you make smart choices no matter where you're eating.
Here's a quick look at some of the foods you'll be eating for breakfast, lunch, dinner, and for snacks or dessert.
Breakfast Sample Menu

Lunch Sample Menu

Dinner Sample Menu

Snack / Dessert Sample Menu

See full South Beach Diet menu at their website.
How the Frozen Meal Delivery Works
When following the South Beach Diet, you eat 6 meals and snacks per day. You start out with a very restrictive menu during Phase 1 of the program, but once the initial week is over you will have more menus variety during Phase 2 of the program.
Your snacks and meals are structured in the following way:
Lean proteins include turkey breast, skinless chicken, pork, lean beef, shellfish, fish, soy-based meat substitutes, eggs, and hard low-fat cheeses.
Good Carbs are foods that are low on the glycemic scale and are high in nutrients and fibers. They include whole grains, brown rice, quinoa, hummus, legumes, vegetables, and fruits.
Healthy fats include (mainly monounsaturated) fats such as seeds, nuts, avocados, peanut butter, and olive oil.
Non-Starchy vegetables which include all vegetables except root vegetables (such as carrots and white potatoes) such as winter squash, corn, and peas.
When you sign up you can let South Beach Diet create a menu for you (recommended for first time customers), and you can also customize your menu with your preferred foods, or for special dietary needs (the offer a menu for people who are pre-diabetic or have type 2 diabetes).
Review Summary
Now that we have considered expert ratings, user reviews, and clinical study results, we have a fairly good idea of if and how the South Beach Diet actually works.
The most important question, however, is if the South Beach Diet will actually work for you, your weight loss goals, and your unique lifestyle and personality.
The South Beach Diet gets high ratings for short-term weight loss, but lower ratings for long-term weight loss. This suggests that some people might lose motivation and stop following the program so the can eat regular meals once again.
If you have tried DIY or fad diets and not lost weight, then you may want to try the South Beach Diet. It is popular with busy people who care more about their weight loss results instead of cooking and menu freedom.
If you are considering signing up with the South Beach Diet, be sure to use the 40% off promotion to get the best price (this deal is also available for their keto-friendly plan). This 40% promotion, unlike other coupons and offers, locks the initial price in.
Resources
Cited Sources
Franziska Spritzler, RD, CDE, South Beach Diet Review and Beginner's Guide, Healthline. Found at https://www.healthline.com/nutrition/south-beach-diet
South Beach Diet Reviews and Ratings. Found at https://www.southbeachdiet.com/reviews-and-ratings/
South Beach Diet Expert Reviews, U.S. News & World Report. Found at https://health.usnews.com/best-diet/south-beach-diet/reviews
Renee Atallah, MSc, et al., Long-Term Effects of 4 Popular Diets on Weight Loss and Cardiovascular Risk Factors, AHA/ASA Journals. Found at https://www.ahajournals.org/doi/pdf/10.1161/CIRCOUTCOMES.113.000723
Aude YW, et al., The national cholesterol education program diet vs a diet lower in car, Archives of Internal Medicine.Found at https://www.ncbi.nlm.nih.gov/pubmed/15505128