Disclosure: This post may contain affiliate links. If you click them and make a purchase, we may earn a commission. It helps up keep our content free.
Dieting is usually never fun. I know we probably shouldn't be saying that on a website that focuses on healthy eating and weight loss, but anyone who has actually tried to lose weight, knows this is true.
Eating healthy meals all the time can be difficult to follow, boring, and even demanding. Regardless of how healthy and fit some of us are, maintaining healthy eating and fitness habits can be a real struggle for many others.
Taking control of your fitness and food choices is not an easy task, yet with Nutrisystem , losing weight and reaching your goals can become much easier for you to achieve.
With Nutrisystem, most of your meals are delivered directly to your door in carefully planned portion sizes, which makes it just about impossible to cheat or mess things up when you are attempting to reach your weight loss goal.
In this Nutrisytem review, we're going to show you exactly what makes this diet work so well, what you'll be eating, and maybe even help you decide whether or not it's worth buying.
What is Nutrisystem?
Nutrisystem involves a 28-day weight-loss, low-calorie program accompanied by a food delivery service.
The Nutrisystem brand provides customers with meal plans that come in prepackaged, low-calorie meals that are delivered to your home. You might need to purchase a few fresh vegetables from time to time, but other than that the plan is very simple to follow.
The Nutrisystem meals mainly consist of: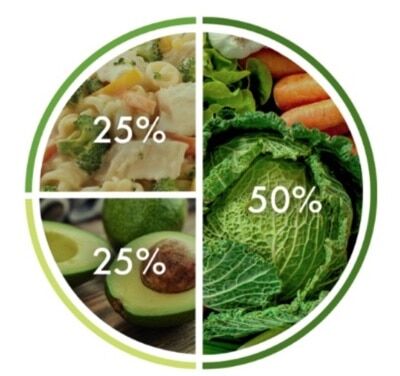 25% Protein
25% Fat
50% Smart Carbohydrates
They claim that this combination should help keep you feeling full, but because the Nutrisystem meals are calorie-controlled, you should lose weight as long as you're following their program.
Key Things to Know About Nutrisystem
Smart Carbs
You'll often hear Nutrisystem talk about "smart carbs," which they say can stop your blood sugar from spiking or becoming too high.
There are a variety of foods that contain these types of carbs, which include things like brown rice, wheat bread (whole grain), whole grains, oats, and more. These are the carbohydrates they say help you feel satisfied for longer while also providing you with the energy you need to power through your day.
Who Invented Nutrisystem?
Nutrisystem was first founded by Harold Katz in 1972 [1].
The Nutrisystem weight-loss chain started out in brick-and-mortar stores, and only in the late 90s, adopted the direct-to-consumer online business model.
How Does it Work?
Ready to get started?
Nutrisystem is available in many versions which depend on the person's age, gender, along with other contributing factors.
For example, there are vegetarian and diabetic plans for individuals that are interested in losing weight, but they have food restrictions. Nutrisystem even offers a gluten-free diet.
This type of customization is great, as many of the other diets use a one-size-fits-all approach, especially when it has to do with food.
If you have recently read reviews on other diets, you may have noticed that people complain about feeling hungry most of the time. This might have to do with not eating enough or getting enough calories every day, due to a generic meal plan.
On Nutrisystem, you will be eating 3 meals a day that is customized to your exact needs.
Women can eat 1 snack daily, while men can eat up to 2 snacks a day. This may appear to be unfair, but the reality is that men usually need more calories to get through their day.
There are a number of plans you can choose from, but for most people, the "Uniquely Yours" plan is usually the most recommended.
This is one of their upper-tier plans, and gives you access to their biggest and best menu.
FreshStart is advertised to help you in lose up to 18 pounds during month one of the diet, but results can vary depend on your gender and starting weight.
Once you have completed FreshStart, the meals provided on the Nutrisystem diet will become a lot more regular, which aims to encourage more gradual and slower weight loss over the next few months. For the most part, dieters who continue following the program can expect to lose an average of 1 to 2 pounds per week.
Depending on what package you have chosen, you might be able to tailor the meal options or use the online tracking systems and tools that allow for a way to keep track of your results.
The Nutrisystem meals contain lower-glycemic and low-sodium foods, which means you will be eating foods that are healthy for you and your body.
A low GL diet (low glycemic diet) offers many benefits that include helping to normalize your blood sugar, preventing fatigue, preventing insulin resistance, and helping you to stay energized and feel fuller for longer.
New Personal Plans: How they Work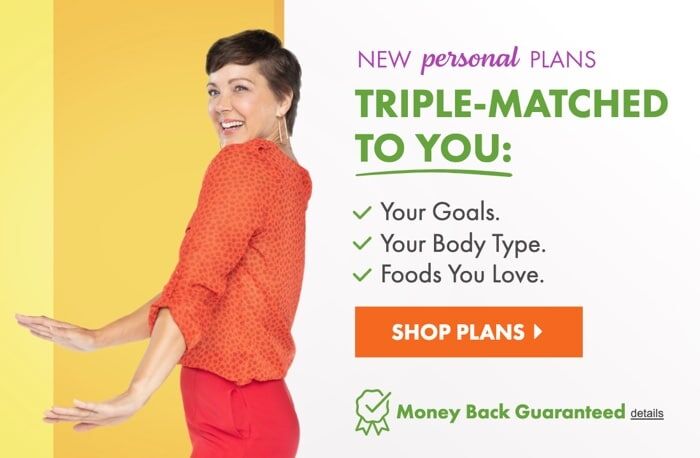 Nutrisystem recently launched their new Personal Plans program. It's designed to get you results. Here's how:
Triple Matched to your body type, goals and favorite foods
Designed to Ignite your body's natural fat-burning ability
Learn how to lose weight and keep it off
The New Personal Plans come with the Uniquely Yours and Uniquely Yours Ultimate plans. They're also available on the Vegetarian and Diabetic plans.
Learn more about Personal Plans at the Nutrisytem website.
What Food Can You Eat on Nutrisystem?
On any of the Nutrisystem plans you are encouraged to use the pre-packaged meals, 3 times a day, along with a few snacks. There are several healthy food options that you are allowed to eat on this plan along with "healthier versions" of snacks and junk food.
Some of these examples include Artichoke & Spinach Stuffed Chicken Breasts, Chicken and Bacon Ranch Pizza, and a S'mores Pie.
All these options are lower in calories and contain fiber, lean protein, and several nutrients.
If you feel like you need to be eating more or you want more snacks than what the meal plans provide, you are able to increase the portion sizes by adding non-starchy vegetables like tomatoes or carrots.
The Nutrisystem Approach to Weight Loss
Dieters are allowed to eat limitless amounts of low-calorie vegetables, and this plan is excellent for people who are pre-diabetic or have type 2 diabetes.
As we mentioned at the beginning of this review, Nutrisystem focuses heavily on "smart carbohydrates" which are found in foods like whole grains, fruit, and beans.
It also places a lot of emphasis on protein (lean), which helps you to consistently lose weight while maintaining or gaining muscle mass. These foods are also linked with encouraging heart health.
What Foods Are You Not Allowed To Eat?
This is a question we see a lot, and one of the things people are most worried about when they are trying to decide if Nutrisystem is the right diet for them.
The good news here is that Nutrisytem takes all the guesswork out for you, so you don't have to spend too much time wondering what you can and can't eat. Just follow a program that has been proven to work [2], and you should be on track to meet your weight loss goals.
To help keep you on track, and answer these questions for you, they provide:
Grocery Shopping Guide
Guide to Dining Out
Additional Resources on their Free NuMi App
Since this is a program that includes stringent dietary guidelines, a low-calorie delivery service, along with pre-packaged meals, if you do eat out are make a flex meal, you will want to follow their advice so you can stay on track with your goals.
Can You Drink Alcohol on Nutrisystem?
You are also encouraged not to drink alcohol or limit your intake drastically while you are on this weight-loss plan, which could be problematic for social drinkers.
It is usually advisable to avoid alcohol when it comes to many diets, and the Nutrisystem plan is no different.
What About Condiments?
Finally, the worst news for those that love condiments or toppings like avocado, mayonnaise, or ketchup, these are all discouraged as they will add extra calories and fat into your meals.
A homemade, natural reasonably portioned dessert is a better option compared to alcohol. Yet one small glass of wine will be a better option when compared to a large or highly processed dessert. The diet plan revolves around making real, whole food choices.
Nutrisystem Menu Samples
Below we will give you an idea about some of the menu options for a typical day on this diet program. This is just a small sampling of some of the food you can expect to eat for breakfast, lunch, dinner, and dessert.
Breakfast Sample Menu

Lunch Sample Menu

Dinner Sample Menu

See Full Nutrisystem Menu:
Nutrisystem Pros And Cons
Pros
Foolproof: If You Follow their Plan Correctly
There is basically no room for errors with the Nutrisystem program, as the meals are delivered to your door containing just the right portion sizes.
You are also not tempted to buy the wrong food choices at your local grocery store, as the meals contain specifically what you will need every day, while the rules will help you to stay on track.
Customizable for Special Diets and Menu Preferences
The Nutrisystem programs offer different options to customize your eating plan, which makes it an easy task to adapt your eating plan to your lifestyle and eating habits.
For instance, the plan offers variations for vegetarians and diabetics, while users that are more advanced are allowed to choose from low-calorie and nutritional meals that they enjoy eating.
"Healthy" Junk Food Options
The creators of the Nutrisystem Program know that many dieters will crave junk food, fat, and sugar. For this reason, they have included various healthy versions of snacks like pizza, cupcakes, and popcorn.
Their menu features plenty of the things Americans love: Pizza, burgers, chocolate, and more – but, in calorie-controlled portions, so you can enjoy they and still lose weight.
Affordable
You can get started on Nutrisystem for around $8 per day.
Cons
Sticking to Diets Can Be Hard
Many diets offer some form of leeway when it comes to eating meals from an outside source, yet the Nutrisystem plan demands that you only use their meals and recipes to satisfy your appetite.
This can make the plan difficult to stick with, especially when you work very long hours, you lead a very hectic lifestyle, or you spend much of your time on the road.
Rate of Weight Loss
Some dieters have complained about how slowly they lose weight on this plan, especially when compared to many other popular diets.
Yet it is important to keep in mind that most of the crash diets can result in health issues, and when you lose weight too fast it can impact negatively on your health and your body.
It is also typically recommended that gradual weight loss happens to be far better than rapid weight loss as it gives the body enough time to adjust and adapt.
Nutrisystem Side Effects?
While we haven't seen any reports of serious side effects reported with the Nutrisystem diet, it's a good idea to check with your doctor before starting any diet or weight loss plan to make sure you're healthy enough for it.
See a full list of potential side effects at the Nutrisystem website.
Is it Worth it?
So, is Nutrisystem worth it?
We say yes, absolutely, if it matches your goals and fits your lifestyle.
Meal delivery diets are great for many people, especially those who like the idea of a done-for-you program, that is easy-to-follow.
At around $8 per day, Nutrisystem is also very affordable when compared to other programs out there.
So, we'd say if Nutrisystem meets your criteria and matches what you're looking for in a diet, then yes it's absolutely worth the price tag.
Review Summary
Nutrisystem is regarded as a sensible way of eating, that is backed by a 50-year history of assisting people to lose weight, along with managing portion control.
There is minimal room for errors, as the meals come pre-packaged, are easy to prepare and come in just the right portion sizes. The guidelines are clear when it comes to what you are not allowed to and what you can eat.
If you struggle with most of the standard diets, you might find that Nutrisystem is the ideal plan for you.
I personally found this system very effective for helping me achieve my weight loss goals, while many other reviewers of Nutrisystem have very similar opinions.
If you would like to know more check out their website to determine if this diet plan can work for you.
Additional Resources
Cited Sources
Nutrisystem, Wikipedia. Found at https://en.wikipedia.org/wiki/Nutrisystem
The Effect of Nutrisystem Meal Provision on Weight Loss, University of Kentucky. Found at https://clinicaltrials.gov/ct2/show/NCT01252303
Information from https://www.nutrisystem.com/ was also used throughout this review.
Nutrisystem FAQs
Is The Nutrisystem Weight-Loss Plan Healthy?
Nutrisystem is regarded as healthy for most people, especially when you combine this program with physical activity and regular workouts. The meals contain high amounts of lean protein, and they remain low in calories and sodium.
The foods are also lower on the GI Index which helps to stabilize blood-sugar levels.
How Many Calories Am I Allowed To Eat Every Day On Nutrisystem?
Women eat about 1,200 calories and men eat about 1,500 calories every day. However, over the 1st week of this program which is called the "Turbo Takeoff", the calorie intake comes in at about 1,000 calories a day.
How Much Weight Can I Expect To Lose On Nutrisystem
Men are able to lose around 18 pounds on Nutrisystem in the first month. While women usually lose around 13 pounds in the first month.
This is under the assumption that the dieter is using the FreshStart plan to get things started, for the individuals that are starting a weight-loss plan from scratch. After the 1st month, weight loss starts to slow down, with the majority of dieters losing 1 to 2 pounds a week.
Am I Allowed To Drink Coffee On Nutrisystem?
You are allowed to drink coffee, but you need to stay away from adding high-calorie creamers, milk, or sugar.
You can drink sugar-free black coffee, as adding sugar or milk will add unwanted calories to your diet. If you cannot drink coffee without sugar, try low-calorie sweeteners.
Am I Allowed To Eat Fruit On The Nutrisystem Program?
You are allowed to eat fruit on this program, but you need to stay away from fruits that are high in calories. In general, most vegetables and fruits are permitted on this diet plan. This has to do with the nutrient levels and their significant health benefits.
Are The Nutrisystem Meals Frozen?
Some of the Nutrisystem meals are delivered frozen which allows you to keep your food for longer. The frozen meals are delivered by special trucks that are made to transport cold loads.
Frozen meals might be stored in dry ice when necessary, which will keep your meals cold for 6 to 8 hours until you are able to arrive home to put your food into the freezer.
Is Nutrisystem A Good Option For Diabetics
This way of eating is great for diabetics, as each meal is lower on the GI Index, which means these meals won't elevate your blood pressure. These plans can be customized for individuals with diabetes or any other type of dietary concern, which makes it easier for diabetics to lose weight and eat healthy meals.
How Much Water Should I Be Drinking On Nutrisystem?
You should be drinking enough water to accommodate what your body needs on this eating plan. The guidelines state drinking what you need to stay healthy. On average, most people need about 1.8 liters of water daily to maintain health.
How Often Should I Be Weighing Myself On Nutrisystem?
It is recommended to weigh in every week while you are following this diet plan.
You should be aiming for the same day and time each week, and if possible do not wear any clothes. Your body will fluctuate in weight from one day to the next, yet weighing yourself once every week should give you an idea of how much weight you have lost.
How Meals Will I Be Eating On The Nutrisystem Program Every Day?
The Nutrisystem diet includes 3 meals a day. You are also allowed 1 to 2 snacks a day. Women are typically only allowed 1 snack daily, while men are usually allowed 2 snacks a day.
Should I Be Freezing My Nutrisystem Dinners?
It is not necessary to freeze Nutrisystem meals unless you have ordered from the "Uniquely Yours" or "Uniquely Yours Plus" plans. Most of the meals can be stored in your fridge, but there are a few that will require freezing.
Is The Nutrisystem Plan Healthy For My Heart?
In general, this eating plan is regarded as heart-healthy and is ideal for people with high cholesterol, high blood pressure, and diabetes. The meals are low in sodium, trans fats, and saturated fats, while high in lean protein, high-fiber whole grains, and good fats.